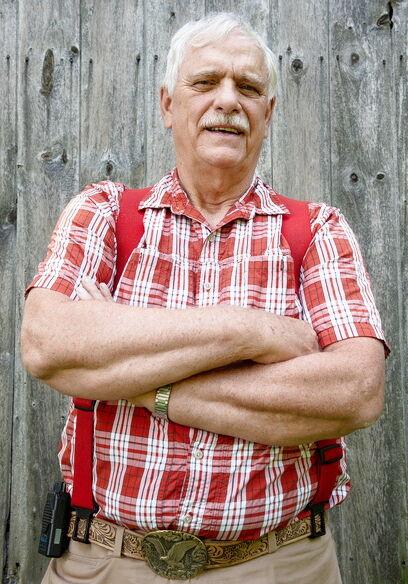 'We Are More Than Grateful': Jackson, Long-Time EMS Volunteer Honored for Service | New
ESSEX – Ronald Jackson, longtime emergency services volunteer and former supervisor for the City of Essex, received the Francisca Irwin Award for Community Service.
Jackson has been recognized for more than seven decades of dedication to his community.
Jackson began volunteering when he joined the Essex Volunteer Fire Service in 1964 at the age of 16, and has been with the service for almost 58 years.
EMS DISTRICT
He was also a municipal supervisor for 10 years and was instrumental in the formation of the Willsboro / Essex Emergency Medical Services District. Jackson also helped start the Essex Heating Assistance group and was a founding member of the Essex Community Fund.
"I grabbed community service from my family," Jackson said in a statement. "And it got stuck."
About 60 Jackson's friends and neighbors joined him for the reception, held at the College For Every Student Brilliant Pathways Center in downtown Essex.
The award, named in honor of Francisca "Frisky" Paine Irwin, was presented to Jackson by the Essex Community Fund segment of the Adirondack Foundation.
As part of the ceremony, Jackson received $ 1,000 from the Essex Community Fund to donate to a charity of his choice and he chose the Essex Volunteer Fire Department.
For the fire company, he served as fire chief, lieutenant, EMS captain and district fire commissioner.
"It's a community where everyone works together," Jackson said.
MENDICES PARK
Jackson also helped raise funds for the development of Beggs Park in Essex, dedicated to his late wife, Barbara.
"Ron's continued dedication to the Essex community is nothing short of amazing," James Graves, Essex Community Fund Board member and member of the Fire Department said in the statement.
"Continuously presenting yourself for your fellow citizens, sometimes literally in an emergency, over the course of a lifetime is a source of inspiration. We're more than grateful for everything Ron has done for us, and we think Frisky would be proud of that as well.
"WHAT JEWEL"
An engineer, Jackson helped design and build the new fire station, and after the events of September 11, he took an ambulance team to New York City to help.
"So impressed with Ron," EMS volunteer Tylr Durden said on social media. "As a relatively newbie to the local rescue team, I was extremely impressed with their dedication, knowledge and attitude. What a gem for the community.
Jackson is the third recipient of the Irwin Community Service Award since its inception in 2019; Donna Sonnett and Sally Johnson are previous recipients.
The Essex Community Fund is an Adirondack Foundation fund that provides grants to qualifying non-profit organizations in the city of Essex. The fund awarded 165 grants totaling nearly $ 274,000 in support of community beautification, historic preservation, culture and the arts, education, recreation and programs for youth, individuals elderly and other social services.
The Essex Community Fund also helps administer the Allen Scholarship and Education Program, a $ 5,000 scholarship awarded annually to a local student to help them through their four years of college.