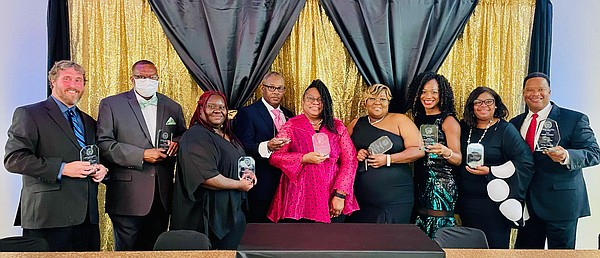 The NAACP Image Awards recognize achievement in business, education, healthcare and more
The NAACP Image Awards took place on Saturday evening, where several people were recognized for their contributions to local business, education, civil and community services, healthcare and more.
According to the event program, this was the first year that 10 award winners were selected for recognition.
"As we celebrate and recognize these recipients, we recognize that their journey has not been easy nor their struggle without obstacles and obstacles. The "formidable ten" honored here are a reflection of dedication and commitment. Each recipient proudly represents the category listed, "said Janice Bush, NAACP Local President.
Last year's Image Awards were postponed due to the COVID-19 pandemic.
Among this year's winners were Twana Scott, owner of Sweet Mama T's Soul Food restaurant, and Barbara Lark, founder of B's ​​Weddings & Rentals.
Scott, originally from El Dorado, had dreamed of opening his own restaurant for 15 years. She started cooking when she was 11.
"My mom and aunts have played a major role in encouraging me to pursue my long-held dream. I am so grateful for all the nightly conversations that took place during my growing years. Cooking has always been my passion and I felt that opening a restaurant in my town / community would be a huge benefit, especially after church. I want my customers to feel like they have just eaten at their mother's or their grandparents with that special home atmosphere, "Scott said.
Scott and Sweet Mama T's have previously been recognized at the Small Business Awards at the El Dorado Union County-Chamber of Commerce and twice in the News-Times Readers Choice Awards.
Lark has been in business for 20 years, helping brides-to-be enjoy their dream weddings. The slogan of B's ​​Weddings & Rentals is "A small business with a big heart".
Young Artist Studios, or YAS, has been recognized for its achievements in the entertainment industry. The mission of the youth performance group is to spread the message of living drug free. The group was formed in 2018 by Stephanie Owens with the help of her daughter Kaitlynn Ford. They perform regularly at community events and, before the pandemic, wrote and directed several plays.
DeQuita Miller-Daniels was recognized for her public service. The native of El Dorado, even as a child, knew she wanted to give back; when asked what she wanted to do when she grew up, she said "make the world a better place".
Miller-Daniels followed a number of career paths – from cosmetology and automotive service to the US military – before finding his passion in protection and joining the El Dorado Police Department. She ran the "Gentleman's Club" at Barton Junior High School while serving there as a resource manager, as well as a girls' program called "Gems".
Today Miller-Daniels is a Chemical Supervisor at Clean Harbors, drawing on her military training.
Morning Star # 2 Missionary Baptist Church has been recognized for its community service. The church has been active since its founding in 1905 by the Reverend George Jones. Since his centenary in 2005, Reverend Felton Burgie has led the church.
In 2007, Burgie and his wife, Jackie, founded the Bread of Life ministry at the church, providing meals to the sick, isolated and elderly in the community. Through the church, gifts of clothing and blankets, community cleanings, and deliveries of blessing boxes of food and household items were organized.
The church will open a second site in Hamburg next month.
Vernita Morgan and Vince Dawson were honored for their educational achievements.
An associate professor of mathematics at South Arkansas Community College, Morgan, a former engineer and native of Louisiana, has led the SouthArk Employee's Club in several positions and has represented the school in national mathematics programs.
Morgan volunteered for the Girls Learning Math and Science (GLAMS) summer program at SouthArk and worked with local elementary school children to involve them in STEM education. Morgan is also interested in history and genealogy, serving as a volunteer genealogist at the Barton Public Library and speaking on historical topics at national forums.
Dawson currently works as an education counselor at SouthArk and previously served as a guidance counselor for El Dorado School District and West Side Christian School, where he also served as Director of Education.
Dawson has served on the board of directors of the Union County Preservation Society, the South Arkansas Art Center, and Camp Kurios, and is a founding member of the Alpha Phi Alpha Fraternity Sigma Phi Lambda, a member of the Pride and Progress Club and the executive of the Union County Genealogical Society. Committee. He is also a volunteer for the Salvation Army.
Dr. Ezinne Nwude, chief of staff at the Medical Center of South Arkansas, has been recognized for her work in the health care field. Nwude and her husband, Dr Ugo Nwude, own and operate the Gold Cross Emergency Care Clinic and Gold Cross Family Care Clinic, which provide care to underserved communities and expand access to health care in the Union County. She is also the Medical Director of the SHARE Foundation Interfaith Clinic.
Nwude grew up in Nigeria, where she saw her mother caring for local residents in their small village. She has previously been recognized for leadership excellence by SCP Health and in 2017 was named MCSA Physician of the Year.
Nwude has been at the forefront of the fight against the COVID-19 pandemic since early 2020 and recently led MCSA medical professionals to demand top-notch care for local residents.
Local lawyer and News-Times columnist Caleb Baumgardner has been recognized for his work in diversity. The El Dorado native has been practicing law since 2014 and, since 2016, owns and operates the El Dorado-based law firm Baumgardner.
Baumgardner is a member of the Union County NAACP Chapter and sits on the Boards of Directors of the Hannah Pregnancy Resource Center, the Salvation Army, the Arkansas Coalition for Peace and Justice, and the Arkansas Interfaith Committee for Worker Justice.
The evening's biggest honor went to Greg Modica, owner of Government Supply Services. The Army Veteran works to coach other Veterans in underserved communities on how to start a business, build networking relationships, find resources to grow personally and grow their business.
He currently sits on the Executive and Advisory Boards of the El Dorado-Union County Chamber of Commerce and served two terms on the Minority Business and Women-owned Business Advisory Board of the Economic Development Commission of the Arkansas. He is a graduate of the Arkansas Leadership Program from the Arkansas State Chamber of Commerce, Grassroots Economic Developers from the International Economic Development Council, and the inaugural class of emerging leaders from the Arkansas Small Business Administration.
Modica is a lieutenant in the United States Army and a licensed private pilot. He obtained a bachelor's degree in criminal justice and aviation science.