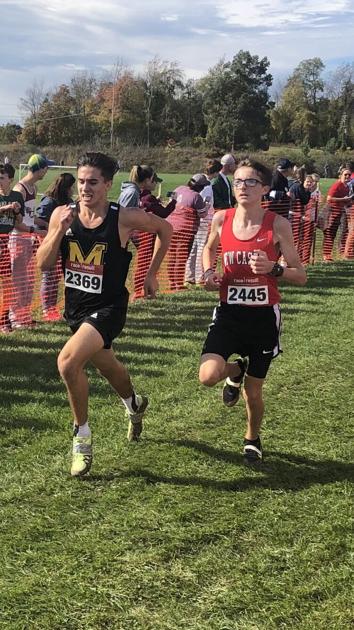 Sixteen participants qualify for the National Cross Country Championship | Local sports
CALIFORNIA, Pa. – The Mohawk High women's cross country team launched several times on Thursday.
The Lady Warriors took second place in the team standings in the WPIAL Class 1A Cross Country Championship meet with 101 points. Notre-Dame du Sacré-Coeur won the team title with 79 points.
The event took place at Roadman Park at the University of California, Pennsylvania.
A total of 16 riders from Lawrence County – seven of whom will represent the Mohawk Women's Team – have qualified for the PIAA Cross Country Championship competition. The state title event is scheduled for November 6 at the Parkview Cross Country Course in Hershey.
The Mohawk women's team consisted of Evelyn McClain (11th, 22: 09.9), Natalie Lape (21st, 22: 54.6), Lillian McClain (22nd, 22: 56.0), Aricka Young (23rd , 23: 07.6), Ellie Whippo (24th, 23: 09.1), Katelyn Stivers (31st, 23: 31.9) and Sidney Andrews (61st, 25: 38.9) took second place in the standings by team. The Lady Warriors also qualified for the tag team category at the PIAA Championships.
Mohawk, who finished 10-0 in the WPIAL Section 1-1A standings, received a plaque for claiming the section title.
Kaleb Lloyd (19: 04.8) finished 32nd for the Mohawk Men's Team and was able to qualify for the PIAA race.
Shenango wins several qualifications
Morgan Pisula of the Lady Wildcats was 32nd in 23: 16.3 to advance to the Class 1A event.
On the boys' side, Shenango's Tommy Presnar (15th, 18: 34.3) and Connor Jeffcoat (28th, 18: 57.0) also qualified for the PIAA competition.
Ellwood boys win section award
The Wolverines have earned two spots in the state competition, while Colten Crizer (30th, 19: 01.6) and Joel Brooks (36th 19: 12.2) will compete in Hershey.
The Ellwood Boys team (10-0) also received a plaque for winning the Section 1-1A championship.
Runners Laurel and Neshannock qualify
Alyssa Sherman (21: 50.1) placed 11th in the Class 1A race for the Lady Spartans.
Brendan Burns of Neshannock was 17th in 18: 36.0 to move on.
Bradley of New Castle moves on
Lucas Bradley (10th, 17: 56.6) secured a place at Hershey thanks to his strong performance in the Class 2A race.