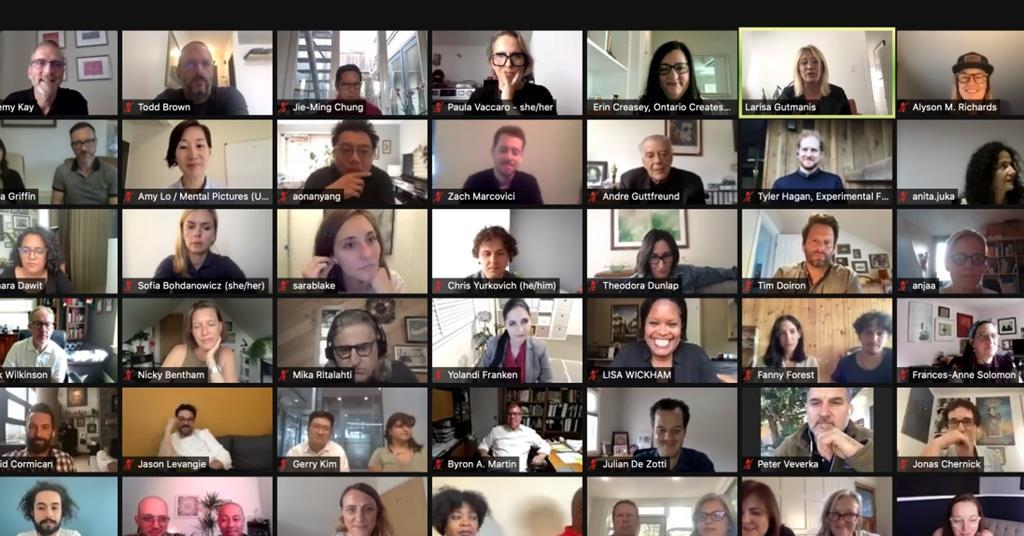 Ontario Creates Participants Report 'Diverse & Rich' Projects (Exclusive) | New
The Ontario Creates 2021 Virtual Forum on International Financing (IFF) this month brought together feature film producers on projects in various stages of development with industry leaders and hosted more of 550 meetings.
Iff, which ran from September 12-13 concurrent with the Toronto International Film Festival, invited 42 industry executives including Netflix, Neon, Voltage Pictures, The Match Factory and Protagonist Pictures. Charlotte Mickie, Vice President of Celluloid Dreams, said, "IFF is awesome. The offering is diverse and rich, and the conversations with the producers are so stimulating and provocative, in a good way. Honestly, I thought the quality of the selections this year was excellent – I have met some amazing people with amazing backgrounds. "
Among the 41 projects with estimated production budgets ranging from 1 to 15 million US dollars of 75 producers were Heart Earth, a horror of David Parfit (The Father) to present the Weta workshop; Drama set in Kenya Kipemboi by Ontario producers Jennifer Jonas and Leonard Farlinger (Born to be blue and world premiere at TIFF A fit of rage); romance Mesopotamian by Brooklyn-based producer Gerry Kim (I am no longer there) and Turkish-born filmmaker Esra Saydam of PPW Films; and rom-com Love arrangements producers based in India and Los Angeles Sunitha Tati and Venkat Somasundaram of Guru Group (Oh baby …).
The annual round table Beyond Borders: How to Make Your Film Work for the International Market moderated by Screen Americas editor-in-chief Jeremy Kay starred Mike Goodridge, UK producer and founder of Good Chaos; Todd Brown, partner and head of acquisitions at XYZ Films; Jei-Ming Chung of Terra Media; and Pinball London producer and director Paula Vaccaro.
The panel discussed the intricacies of building co-productions and how to guide projects from development to release to better serve international audiences. The session also looked at the role streamers played in expanding global interest in storytelling outside of the English-speaking world, and strategic approaches to hiring sales agents.
Two round tables were presented on the future of financing for Ontario companies BlockFilm and Mogul Productions. BlockFilm is mandated to fund new and under-represented voice projects on a range of social, political, environmental and human rights issues. Co-CEOs Pauline and Suzette Couture said the forum provided a "unique opportunity" to educate the industry about their business, while strategic advisor David Cormican of blockchain-based financier Mogul Productions noted "an unbelievably high caliber. high number of projects and dynamic teams participating in this year's sif ".
The really useless orchestra producers Kate Swan, Margaret Enefer and Lindy Cameron of Move On Up / Real Fiction Ltd. participated with encouragement from Screen Scotland and found "positive and thoughtful feedback, opening up incredible opportunities for us with creative and business partnerships ". Ontario producers Sofia Bohdanowicz and Aonan Yang Maison du Bonheur Films were in attendance with A portrait and said he got "important pieces" of the co-production puzzle.
"Over the past 16 years, iff has grown into one of TIFF's most anticipated industry events, and we're delighted that even a global pandemic hasn't put an end to the great energy of this event," from large and meaningful B2B meetings to lively meetings. producer meetings and Zoom roundtables, "said Ontario Creates President and CEO Karen Thorne-Stone. "With our event sponsors, Telefilm Canada and the UK Department for International Trade, we expect to see many films go into production soon following this year's forum.
Ontario Creates iff presented the likes of Denis Villeneuve Fires, by David Michod Animal Kingdom, Haifa al-Mansour Ouadjda, Danis Goulet's entry to the Berlinale 2021 Raiders of the night, and first TIFFs, Castle in the ground, The extinction of sharks, and Maudie.
Applications for 2022 iff will open in May.