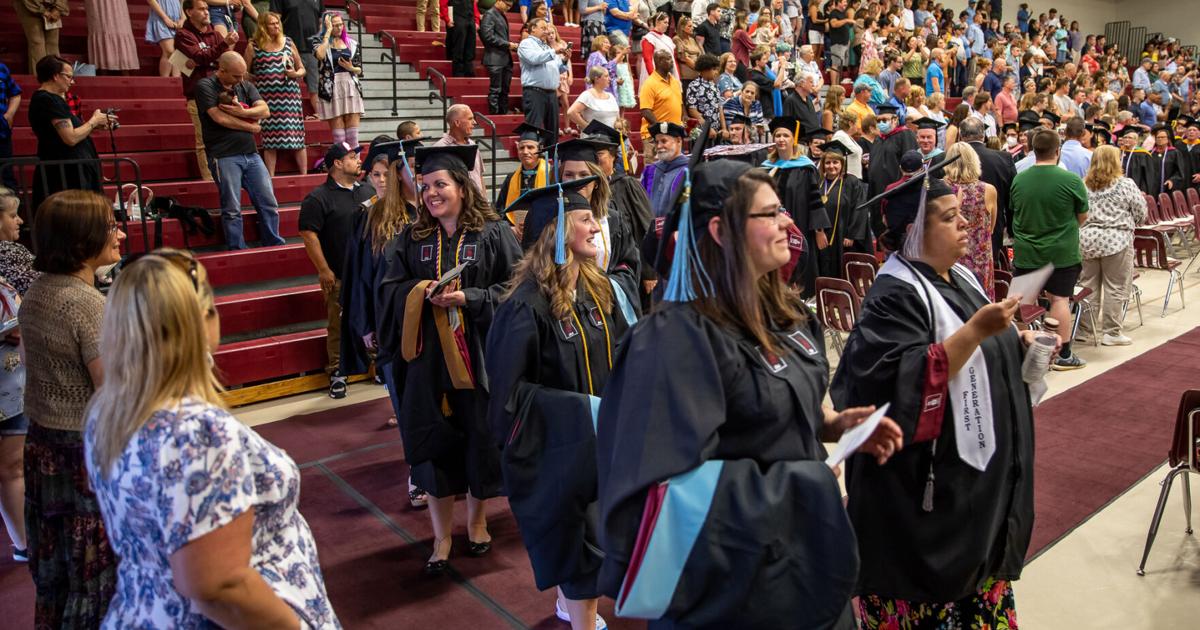 Jefferson Community College returns to its traditional beginnings after two years | Education
WATERTOWN — For the first time since 2019, Jefferson Community College graduates gathered Friday for an all-in-person commencement ceremony at McVean Student Center Gymnasium.
"On behalf of the Jefferson Community College Board of Trustees, joined by college faculty and staff, we welcome you to this very special and joyful event," said JCC President Ty A. Stone.
As part of the ceremony, Jordan A. Flagg received the 2022 SUNY Chancellor's Award for Student Excellence, which is awarded to students who have demonstrated and been recognized for embedding academic excellence in other aspects of their life. These may include community service, creative and performing arts, athletics, entrepreneurship, leadership, or career achievement.
Malachi R. Adkins and Katherine A. Monteith have been recognized as part of the Phi Theta Kappa Honor Society 2022 All-New York Academic Team. In order to receive this recognition, a student must have a minimum average of 3.25 as well as a history of academic achievement.
Justyce J. Countryman, Malachi R. Adkins, Kyra M. Daly, Katherine A. Monteith, Olivia G. Patterson, and Shante M. Westfield were also recognized for serving in the college honors program.
Ms. Stone also spoke about the relationship the college shares with Fort Drum and the 10th Mountain Division.
"Jefferson Community College has a very special relationship with Fort Drum and the 10th Mountain Division," she said. "The soldiers of Fort Drum and their family members are an important part of this college community."
Eight active duty and 26 veterans were part of the JCC Class of 2022.
The student speaker was Justyce J. Countryman, who while in college had a cumulative GPA of 3.97 and was on the President's List every semester, among many other accomplishments. Mr. Countryman earned two associate degrees, one in Individual Studies and one in Computer Science.
He dedicated the speech to Donna Rossi, a college professor who died last week.
"Without her dedication and confidence in me, I might not have had the courage to speak in front of all of you tonight," he said.
He also talked about overcoming his fears about college.
"Well, look around, despite our fears, here we are, right now, at our college graduation," he said.
Mr. Countryman shared three life skills he said he developed at JCC: teamwork, motivation and perseverance.
"COVID hasn't stopped us, our academic challenges haven't stopped us, and most importantly our fears haven't stopped us," Countryman said.
The keynote speaker was Maj. Gen. Milford H. Beagle Jr., commander of Fort Drum and the 10th Mountain Division.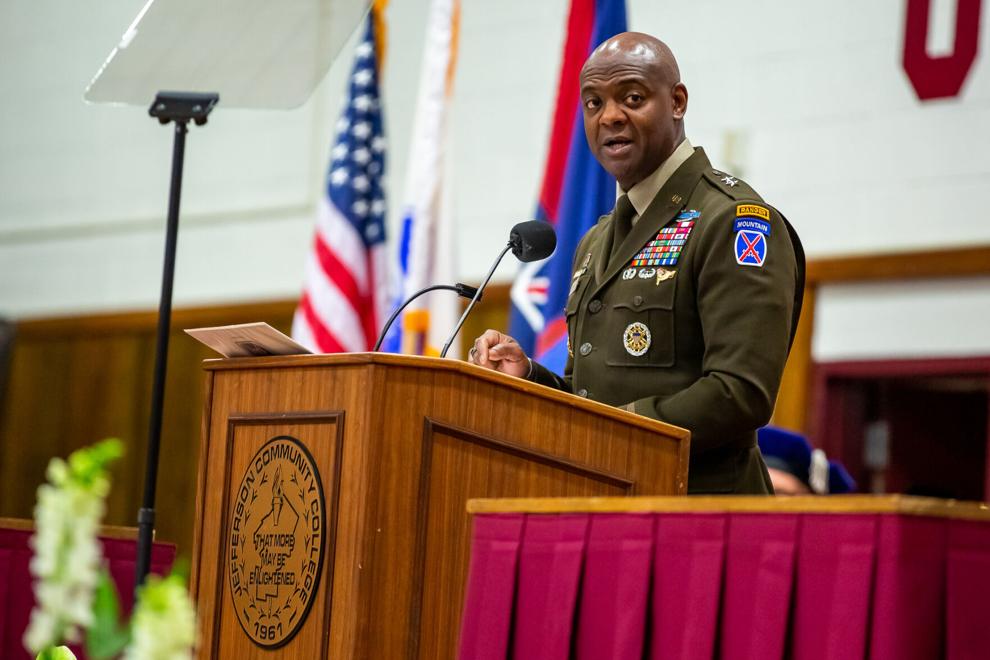 He said he wanted to convince the graduates of three things before they cross the stage and exit.
"First, you will have a hard time defining success. If you don't have an idea right now, it will take a long time to figure it out," he said. "Thing number two, busy. The word busy will keep you submerged in the sea of ​​average… activity does not equal productivity… You can live your life having a lot to do or you can live your life doing a lot. And thing number three, the better you think you are, the better someone else becomes… You have to convince yourself right now, not tomorrow, not after dinner tonight, or after a party later or whatever you'll do, that you won't be overworked. There's a great saying, 'Hard work beats talent, when talent doesn't work hard.'
"A lot of times we compete when nobody matters," he added. "It's about the pursuit of excellence and the pursuit of perfection. So, are you ready to hunt this ghost? »
He ended his speech by thanking everyone and telling the graduates to "go make a difference".
Ms. Stone offered her three starting Cs: commitment, being caring, and being curious.
To view the full list of graduates, visit wdt.me/JCCGraduates.