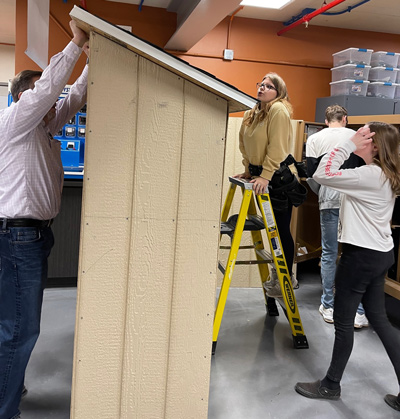 Heights students learn trades and community service in one classroom – Hamilton County Reporter
This school year, 60 local high school students are learning building skills while giving back to the community at the same time.
Eric Fisher, a construction and engineering trades teacher in Hamilton Heights, thought it would be a great project for his Construction Trades I class to combine learning with community service. He contacted Mark Hall, co-founder of FeedingTeam.organd together they put together a plan to build 10 new pantries.
"My wife and I were going to dinner when we saw one of those yellow pantries, I reached for the Halls and there we are," Fisher (aka Fish) said. "If we had turned the other way for dinner, this project wouldn't have happened."
Fish joked, "We can only build a limited number of deer blinds" while explaining his idea of ​​building Feeding Team pantries as one of this year's projects to his students. "Let's build something this semester that helps save lives in our community, not take lives."
After conversations, detailed plans for the pantries were in Mr. Fisher's hands. Then, with proceeds from last year's Feeding Team festival at Federal Hill Commons, $7,000 of new building materials were made available for students to build the new pantries. Fisher explained, "In today's economic climate, it's rare for students to have real wood and materials to build with. This is a special learning opportunity for my students.
As clients of the project, Mark and Lisa Hall met with the students to review the progress of their project and discuss the importance of the work they are doing to Hamilton County. The Halls spoke to both classes to explain the impact of their work on the community by facilitating the distribution of 2,500 extra meals per month to hungry neighbors.
Click here to see a Facebook video detailing the project's beginnings, progress, and more about the students involved.
According to Hall, "We got to watch the students build the pantries and talk to many about career opportunities in the skilled trades. It's a great example of the community coming together to achieve particular goals. Students have learned skills in construction, team building and project management, and the community is benefiting from new pantries to serve hungry neighbors. With these additional pantries, we will be nearly 10,000 meals per month that the team provides. It's gratifying to see this loop come full circle – neighbors supporting neighbors supporting neighbors.
These students join the more than 70 volunteers who serve Hamilton County each week to provide thousands of no-questions-asked meals to hungry neighbors in Cicero, Arcadia, Noblesville, Fishers, Carmel and Sheridan. To commemorate their service, each of these 10 new pantries will be autographed by the students who built them. In the future, they can return to their pantry and remember their legacy of community service.
"It was a wonderful experience," Hall said. "We appreciate the partnership with Hamilton Heights High School, Fish, Dr. Arrowood and the students. Serving alongside them is particularly gratifying.
The Food Team provides free non-perishable outdoor food pantries, 24/7/365, no questions asked, with a focus on Hamilton County. Learn more about FeedingTeam.org.
Photos provided