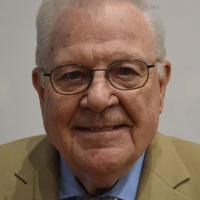 Former Army Ammunition Officer Spent Much of His Life in Community Service | New
Richard Archer, a longtime resident of the Temple, served in the United States Army during the height of the Vietnam War, but was never sent overseas to fight.
It once bothered the 78-year-old Mount Pleasant, Michigan native that he was one of those who stayed behind to support the war effort from home. For a long time, he did not see himself in the same category as those Vietnamese veterans who fought in this controversial conflict that ended in 1975.
"For many, many years – until only five or six years ago – I went to all these veterans events and when they asked all the Vietnam veterans to stand up, I never got up. lifted, "Archer said. "I've never been in combat, so I never got up.
"Then (President) Obama made this agreement (on) the Vietnam era, and I got some kind of certificate and all that… those of us who served in Vietnam were then recognized as part of Vietnam. So now I get up.
Born and raised in Mount Pleasant, the son of a longtime Postal Service worker, Archer went to college right after high school on an ROTC scholarship and was made a second lieutenant upon graduation. . He served two years in active duty, followed by nine years in the Army Reserve.
He was stationed with the 2nd Armored Division at Fort Hood from 1966 to 1968, where he worked in supplying the division, sending spare parts to troops overseas.
"I was single at the time and lived in McCully Hall, right next to the officers' club," Archer said. "It was war, so we were working about seven days a week. I was on a maintenance crew and then they quickly transferred me to the division's maintenance supply. We did all of our logistics on this NCR 500 (computer) and I wasn't sharp enough to know much, but I learned quickly.
"I was hoping to go (to Vietnam), but I was locked up in Fort Hood."
"The sad story is that the last officer killed in Vietnam – Colonel William B. Nolde Jr. – pinned my (lieutenant) bars at Central Michigan University. His name is on the Vietnam Wall (Veterans Memorial) in Washington, DC, and there are six enlisted men after him. I have been there two or three times. He was an artillery officer outside of Saigon, and they fired shells and he was killed.
"It was sad because he was a history student and had two sons and a daughter. He was a true gentleman. When I saw his name, I knelt down. I didn't think it would hit me like this, but it sure is. "
A Temple resident for 56 years now, Archer has served a total of two years of active service and nine years in the reserve. After leaving Fort Hood, he worked for a year (1969-70) as a teacher at Temple High School, conducting business classes in the morning and art classes in the afternoon. He then worked in banking for 16 years, followed by 15 years at Temple College, where he was executive director of the Temple College Foundation, raising money for scholarships and building construction.
Archer also worked for the Veterans Land Board, where he was involved in planning and marketing the construction of the Central Texas State Veterans Cemetery in Killeen, as well as four nursing homes, including the William R. Courtney Texas State Veterans Home in Temple.
Now fully retired – semi-retired may be more precise – Archer works with the Military Officers Association of America and its scholarship program for eight area high schools and two universities. He and his wife, Kay, are active in their church and donate to various causes. They especially like to contribute to the University of Mary Hardin-Baylor Nursing Scholarships in Belton.
Archer is a former Temple College administrator, a member of the Salvation Army and MHMR board of directors, and has helped raise funds for the Scott & White Memorial Hospital. He started a local temple animal adoption group called the Association for a Pet Adoption Center (APAC).
Archer says his life has been dedicated to the service of others and that he is proud of all he has achieved.
"I give all the credit to my relatives and friends who have always encouraged me," he said. "My parents were very generous people and my scholarship helped me complete the ROTC. I saw my parents give and I was blessed to give.
"Giving is a culture. I saw this with my parents and have always been fortunate enough to see good results from giving.
This dedication to service has earned Archer a number of honors and awards over the years. after their military career.
"I couldn't believe it," Archer said. "I thought it was mostly for combat veterans."
In addition to the example set by his parents, Archer says his time in the military greatly contributed to his success in life.
"My brother was drafted during the Cuban (missile) crisis, and he said, 'You will probably be drafted, so you should go ahead and join the ROTC.' Vietnam was getting warmer, and one of our neighbors was a colonel and he told my mom and dad that I had to do it, so I did.
" I have no regrets. The friendships you build are lasting. People who've never served don't know the closeness …. I'm still in touch with seven or eight of my folks at Fort Hood. I know where they are and how they are doing. There is a friendship that you don't really see sometimes in civilian life.
"It allowed me to acquire leadership skills. In high school, I was president of my class, president of this and that. They were always asking me to do stuff and I couldn't say no. You name it and I was on it. I have always been asked to serve, and why not? It's not about having my name on a plaque. I really like to serve.