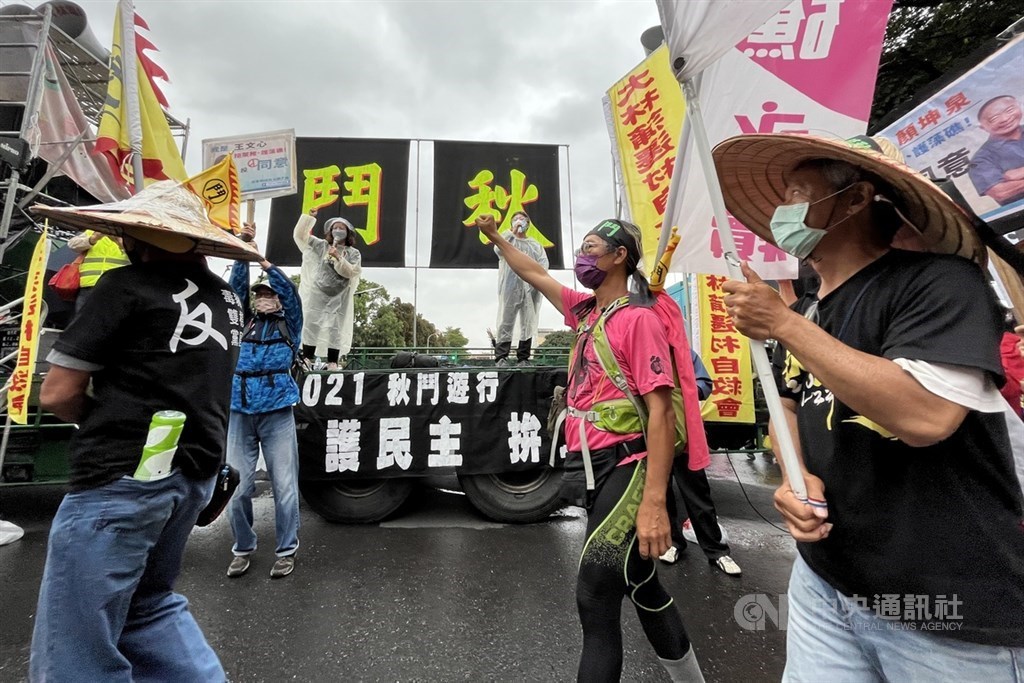 Fall struggle participants join KMT rally in support of referendums
Taipei, December 12 (CNA) Participants in the annual "Fall Struggle" union protest joined opposition supporters Kuomintang (KMT) on Sunday in a rally encouraging people to vote "yes" at the four referendums scheduled for December 18.
About 10,000 people gathered on Ketagalan Boulevard to march around the presidential office.
A large group of participants in the fall struggle, made up of 32 pro-worker groups and activists, began their march towards Taipei from Pingtung County in southern Taiwan on November 13.
The event was initiated to promote the annual movement's awareness topics this year: ending the intimidation of the cyber army and power, banning the import of pork containing ractopamine, and the preservation of reefs from algae.
The last two questions relate to two of the four referendums, which ask whether the location of the country's third liquefied natural gas (LNG) terminal under construction should be moved from its current site on the seaweed reef coast in northern Taoyuan. , in northern Taiwan, and whether people agree that the government should ban imports of pork, offal or other related products containing ractopamine.
The overwhelming support of protesters for the four referendums was one of the main reasons they chose to attend the KMT rally.
Before the march, the KMT organized a pro-referendum rally in Freedom Square at the Chiang Kai-shek Memorial.
The rally brought together outgoing KMT chairman Eric Chu (朱立倫) and former chairman Ma Ying-jeou (馬英九), along with other KMT leaders, including seven mayors and county magistrates from the 14 cities and counties ruled by the KMT.
Neither Taichung Mayor Lu Shiow-yen (盧秀燕) nor New Taipei Mayor Hou Yu-ih (侯友宜) attended the rally.
As part of its attempt to gain support, the KMT has also deployed fleets of advertising vehicles to promote referendums.
Conversely, the ruling Progressive Democratic Party (DPP) has moved south to Tainan to encourage people to vote against referendums.
President Tsai Ing-wen (蔡英文), Vice President Lai Ching-te (賴清德) and Prime Minister Su Tseng-chang (蘇貞昌) all appeared at an event in Tainan with around 30,000 attendees.
During the event, Tsai, Lai and Su took turns taking the stage and encouraging the general public to vote against the referendums.
The DPP and the KMT have scheduled further rallies, with the two sides scheduled to hold side-by-side events between Liberty Square and Ketagalan Boulevard on the evening of December 17.