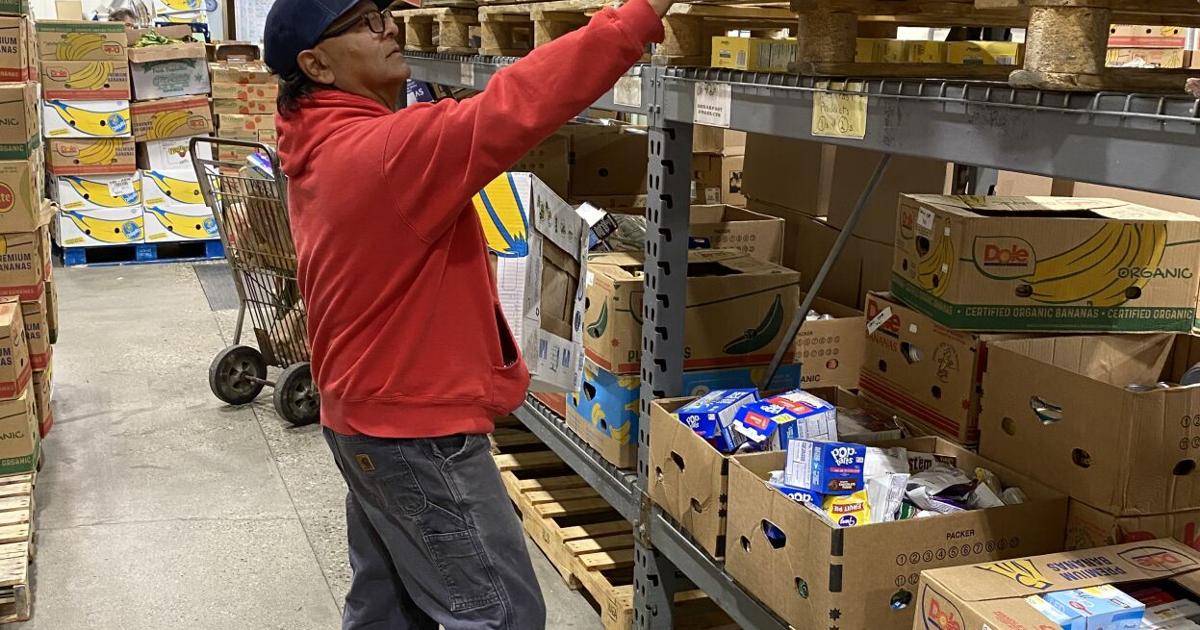 Dedicated volunteer: "The people at the food bank are my family now" | Local News
Twelve years ago, Roland Castillo went to the Fairbanks Community Food Bank to perform 30 hours of court-ordered community service as the result of a traffic violation.
Little did he know it would change his life and become one of the most dependable and enduring volunteers the food bank has ever had.
He thinks back to that time with some embarrassment.
"I was just trying to do it," he said of those community service hours. But the more time he spent at the food bank, the more he realized the importance of the work and it became a very positive part of his life.
"After a little while, I started going there a lot," he said. "Even after knowing I had my 30 hours."
In fact, when he finally reported to the judge, she was amazed and exclaimed, "280 hours? You must love what you do. To his surprise, he did.
He enjoyed being around other volunteers, including his former wrestling coach and martial arts instructor. He also met with long-time volunteer Glenn Hackney. Castillo became so devoted that he even lost time with his mother when she came from outside because the food bank needed him.
"I went in and gave them five or six hours, and it just got better and better," he said. "The food bank people are my family now."
He volunteers about five hours a day, five days a week.
"It is an institution of the Fairbanks Community Food Bank," said Samantha Kirstein, director of community development for the food bank. "He is cohesive, engaged and a character that makes all the hard work more fun. But he really has a heart too.
"Other than Sam, myself and Pam, Roland has been here longer than any staff member," said food bank manager Anne Weaver. "I actually tried to hire him once and his response was that he didn't want that much responsibility. I still laugh at that.
According to Weaver, Castillo trained thousands of volunteers and most of the warehouse staff.
"He wants the people we serve to feel the care and love that our volunteers and staff put into their work," she said. "He wants every volunteer to enjoy being here as much as he does, and he enjoys developing leaders."
He often works with court-mandated volunteers and gives them a sense of hope and purpose, she added.
Since volunteering at the food bank, Castillo sometimes thinks back to his childhood in Fairbanks in the 1970s, when his family went through tough times.
"My mum was raising three boys and someone kept bringing us groceries," he said. "I always asked my mother, 'Who brings us food like that?' "
"Different people in the community," she replied. "That's how this community works. They have heard of what is happening to us.
"I always thought one of these days I'd like to know who it was and say thank you," Castillo said. "I never knew."
He now spends up to 30 hours a week doing the same, helping others and mentoring new volunteers.
Longtime food bank volunteer Glenn Hackney inspired him, he said.
"He would come up to me and say, 'I heard you're doing some really good stuff, young man,'" the retired heavy equipment operator said. "I'm 54 and he calls me a young man."
About seven years ago, the receptionist at the food bank handed him a piece of paper and asked him to write down his thoughts about the food bank so they could be posted on a wall displaying the thoughts of people related to the organization. He took the request seriously and struggled to put his thoughts on paper. It was difficult, and he just couldn't get it right. He even showed it to Glenn Hackney who said, "Don't worry. You will find the words when you find the words.
Seven years have passed. Two months ago, he pulled it out again. At that time, it had become a poem. And finally, he found the words and finished this reflection. He dedicated it to Glenn Hackney, who died on May 20 at the age of 97.
This one's for you, Glenn Hackney
At the food bank in Fairbanks it's 40 below
But we try to be open five days in a row.
We don't have the best, but we give what we can
Sometimes a turkey, sometimes a ham.
At the Fairbanks Food Bank, come lend us a hand
Make a donation or entrust us with your cans.
Thank you, Fairbanks, for all you do
That's why I love living in this town with you.