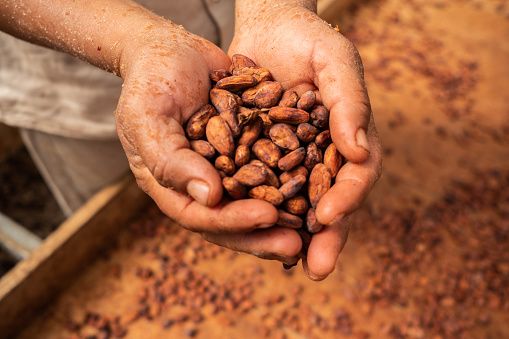 Baranyai: Big chocolate producers slow to tackle human trafficking, child labor issues
Content of the article
After winning her first gold medal in Beijing this week, skier Eileen Gu charmed the world with her plan to open a bag of Ghirardelli chocolate peppermint bark, a disarmingly ordinary treat for a classy athlete world.
Content of the article
Chocolate can be many things: a celebration, a consolation, an indulgence and an aphrodisiac. It can be a romantic gesture or an apology. Many crave it when they're feeling low, perhaps for its mood-boosting boost of serotonin. Chocolate also stimulates the brain to release oxytocin – "the hug hormone" – which floods the body when we are hugged. It is the closest food to love.
It's an ongoing shame that the feel-good effects of chocolate are so drastically at odds with how it's produced.
About half of the world's cocoa supply comes from Ghana and the Ivory Coast, where the industry is plagued by human trafficking and child labor. Consumers don't really want to think about that when choosing Valentine's Day treats or Easter bunnies.
Content of the article
Two decades ago, former US Congressman Eliot Engel threatened to make "no child slavery" labeling an industry standard to promote ethically sourced chocolate. Companies have moved quickly to adopt voluntary self-regulation. The result was the Harkin-Engel Protocol, a commitment to eliminate the worst forms of child labor in cocoa production in Ghana and Ivory Coast by 2005.
Not all child labor. Just the worst forms, defined by the International Labor Organization, such as unsafe work environments, trafficking and slavery.
The 2005 deadline has passed as Gu speeds up the big aerial leap. Then other deadlines passed. Finally, they set a new target for 2020 to reduce the worst forms of child labor in the cocoa sector by 70%.
Advertising
This ad has not loaded yet, but your article continues below.
Content of the article
The staggering inadequacy of this goal is matched only by the slowness of its progress.
A four-year project from the National Opinion Research Center at the University of Chicago tracked the findings. Its 2020 report does not measure forced labor or slavery. Instead, it focuses on "hazardous child labor" as an indicator of the worst forms of child labor, including working with sharp tools and chemicals, carrying heavy loads, long hours, and working by night.
In 2013/14, according to the US Department of Labor, approximately 2.1 million children worked in cocoa production in Ghana and Côte d'Ivoire. Almost all of them were engaged in work dangerous for children. Five years later, that number has dropped to around 1.56 million. On hazardous child labor, the needle barely moved, affecting 1.48 million people.
Advertising
This ad has not loaded yet, but your article continues below.
Content of the article
To solve the intractable problem of child labor, major chocolate manufacturers including Nestlé, Mars, Cargill and Hershey are working to make their cocoa supply fully traceable back to the farms where it is harvested. Ghirardelli and its parent company, Lindt, claim that 100% of their cocoa beans have been traceable to their farms and externally verified since 2020.
Corporate efforts to tackle the root causes of child labor include incentives to enroll children in school, increase agricultural productivity through practices such as pruning, and investments in biodiversity and community infrastructure. .
Fed up with the pace of change, some class action lawsuits have tried to create pressure.
Six men who say they were trafficked from Mali have filed a lawsuit alleging that Nestlé and Cargill perpetuated the slave trade to keep cocoa prices low. Last June, the United States Supreme Court ruled that companies could not be prosecuted for child slavery in their supply chains because the alleged crimes occurred outside the United States.
Inevitably, the pace of change will depend on the bottom line. Consumers can have an impact by raising awareness and buying fair trade certified chocolate. Meanwhile, compliance remains voluntary and self-paced.
Advertising
This ad has not loaded yet, but your article continues below.